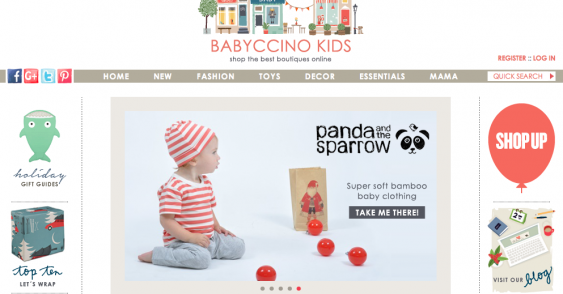 Since the launch of Panda and the Sparrow we have had some amazing support from some fantastic baby and toddler focussed blogs and shopping sites and we thought it only fair that we share the love!
So over the next few weeks we are going to write about the blogs we love the best, the ones we follow, the ones that inspire us
Firstly we thought we'd share our "Top Blog" list with you in full before delving into the detail.
So, let's start with what has to be one of our favourites – Babyccino Kids– we have followed them for a long time way before Panda and the Sparrow was even born and were se excited when they accepted us as one of their boutiques.
So what can we tell you about Babyccino Kids. Well basically, they offer a curated selection of the very best online children's boutiques, inspiring shoppers to find unique products and to discover the latest trends in the children's market.
This easy-to-use shopping tool makes shopping online both easy and enjoyable. The site remains fresh and appealing by offering rotating features such as: 'pick of the day', weekly top ten selections, enticing promotional offers and interesting give-aways.
Visitors to Babyccino Kids are able to create their own account and keep track of their favourite webshops and browsing history. Babyccino Kids provides an addictive shopping environment,encouraging shoppers to return day after day. Readers can also check out the Babyccino Kids blog – we believe one of the best blogs around – which is updated twice a day.
Babyccino Kids is the brainchild of three friends, Courtney, Esther & Emilie who are scattered across Europe (London, Paris and Amsterdam). They've been friends since their first babies were born nearly 9 years ago, and now have a total of ten children between the three of them! They meet up often, attend trade shows, and are always on the lookout for new brands and discoveries to share with you. They sometimes even get all of their children together for big family holidays, which is quite the sight to see with all the children running around, completely outnumbering the grownups! You can read a little bit more about them and the brands they love by following the Babyccino Blog.
And as if that wasn't enough they also organise events. Check out Shop Up by Babyccino Kids – being held on 3rd and 4th December at Chelsea Town Hall – Panda and the Sparrow will be there.
Imagine one room filled with more than 30 of the best independent children's boutiques: the place where you can do all your Christmas shopping in one fell swoop, where you can step from one charming shop to another picking up unique toys & gifts, stylish clothes & accessories, stocking fillers, home decorations and everything in between. A dream, right?
Babyccino Kids – As LOVED by Panda and the Sparrow